If you are like most families, you want to find ways to make summer meals quick and easy. You don't want to spend a long time in a hot kitchen. You also don't want to spend extra money by going out. Use these ideas to help make summer cooking simple and quick.
This post may contain affiliate links. Please see my full Disclosure Policy for details.
Make a Meal Plan
Having a list of your family's favorite meals will enable you to purchase ingredients when they are on sale. Buy as many staples as you can. When you need an ingredient for their favorite dish you won't have to run out to the store to pick it up. You'll already have that item on-hand. I like to use my local grocery store flyers to check for deals and plan my meal plan around those savings. On Friday evenings, I plan out the following weeks' meals and create a shopping list for either Saturday or Sunday. Don't forget to check the sales/clearance racks, too!
The Dinner Daily makes delicious dinners easy and affordable for busy families and couples with our customized weekly dinner menus based on your store sales. Save $1,200 a year or more on grocery costs!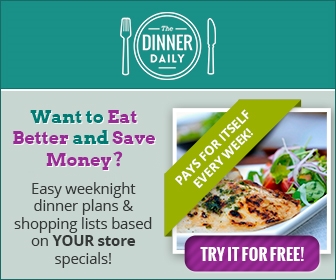 When you do plan summer meals, it is going to take some time and effort, be sure to make enough that you'll be able to have leftovers. For instance, if you bake or grill chicken, you can use leftovers to make chicken salad sandwiches. Pot roast can be used to make roast sandwiches and the vegetables put in the freezer to use in soup when soup weather returns. Try to remember to prepare the food once but use it twice.
Add as many fresh fruits and vegetables to your meals as you can. Rather than cooking all of them, serve them as raw as often as possible. Fruits and vegetables served raw will have more nutrients than those which are cooked. Serving them raw will also keep your kitchen cooler!
Summertime is the best time to grab fresh produce – especially at your local farmers market! You're helping create sustainable food sources and getting the absolute best flavor possible. Last summer, I can't begin to count the number of times I went to buy peaches at my local grocery store and they were frozen. The flavor was mediocre, at best, and within a day of purchasing, they were rotten. What a waste!
Use the slow cooker or Instant Pot. They're not only for the winter months. A slow cooker will generate less heat which means your kitchen won't become sweltering. It also allows you to cook while you're away or otherwise engaged. Place the ingredients in the Instant Pot the first thing in the morning and they'll be ready to eat when dinner time rolls around. How easy is that?
Some of my favorite summer slow cooker/Instant Pot meals include:
Make staple items like sauces in large amounts ahead of time. These can be frozen and then taken out of when needed.
Salads
Eat a variety of salads for easy summer meals. Salads are generally quick and easy to make. Most of the food items don't require cooking so preparation time is less. Of course, you can also make pasta salads ahead of time and place them in the refrigerator so they're ready when needed.
Skip the Meat!
Plan at least one vegetarian meal per week. Not only will this give you an entirely different set of recipes and foods to choose from, it will give your body a rest from too much protein. Visit a farmer's market or pick foods from your garden and use them as the main ingredients in your vegetarian meal.
Give this Chilled Cucumber Avocado Soup with Fresh Dill a try!
The above ideas are by no means exhaustive. However, if you use one or two of them they can make summer meals quick and easy. An added benefit is that your home will stay cooler, too.